Before we talk about where to find the best tacos in Puerto Morelos, let's clear one thing up — there are two people compiling this list, and only one is an actual expert.
I'll let you guess which one….the chick who moved here from Denver (almost) eight years ago thinking that a good taco involved a hard flour tortilla shell and El Paso seasoned ground beef, or her Mexican husband, Gabriel Ortega.
If you guessed Gabriel, congratulations!
On the topic of tacos…
While I cannot claim to be an expert, after almost eight years living in Mexico — three of which involving an intensive search for the best tacos in Puerto Morelos with my (very picky) Mexican husband — I can report that I've learned a bit more about tacos:
Hard shell tacos are not real tacos.
Flour tortillas are a no-no — it's not a tortilla unless it's a corn tortilla (really… don't even try to order flour, you will be mocked)
I can't speak to the entire country of Mexico, but, to my knowledge, there are no ground beef tacos in the Riviera Maya
On the other hand, everything else can be made into a taco — regardless of what you're eating, they bring a basket of warm tortillas to the table, you slide that stuff in and, voila! TACO!
There are many different kinds of tacos, each with their own rich cultural history and traditional methods of preparation. (There's even a whole (mouthwatering) Netflix series about the different types of tacos – Taco Chronicles)
It is always the right time for tacos — you can get a taco at any time of the day or night here, and they are perfectly appropriate for any occasion.
Most importantly, I've learned that tacos are not just a food option, they are the food option in this culture. From fancy seaside restaurants to pop-up, under-the-radar stands and trucks, you will always find tacos on the menu.
So how do you choose the best taco in Puerto Morelos?
You don't.
Look, no one can really rank Puerto Morelos' BEST tacos. Even Gabriel.
We aren't even going to try. Tacos are on almost every menu in town, and what makes a good taco (much less "the best taco"!) is a matter of personal choice.
However, in honor of National Taco Day, we wanted to use our knowledge of the local taco scene to point you in the direction of some of our favorite tacos in town.
Go ahead and grab an ice-cold cerveza or a refreshing margarita, and let's taco 'bout where you can find some of the best tacos in Puerto Morelos.
This taqueria only appears at night, in a parking lot in the Colonia on Zetina Gasca street near the athletic fields. My husband, Gabriel, says these are the closest tacos to the ones he grew up with in Mexico City. I say they are just plain DELICIOUS. They are also fast and ridiculously cheap. There are lots of taco options — most of which I will never eat, but Gabriel loves — cabeza (brain), lengua (tongue), ojo (eye), cachete (cheek). For less adventurous types like me, they also have amazing tacos pastor and suadero. They don't serve alcohol, but you can bring your own if a cold beer and cheap tacos are what you are craving!
Also in the Colonia, on Calle Chaca, this cute palapa covered spot features Nayarit style seafood cuisine and is open from 10-7. We are partial to the shrimp (cangrejo), crab (jaiba) and Marlin tacos. We are also partial to their perfectly spiced Ojo Rojos (your favorite beer + tomato stuff + spices + ice) (below)
This relatively new spot in Puerto Morelos is located just south of the town square, on Av. Javier Rojo Gomez, across the street from Chimmichurri's. It's super cute and has some really different, yummy tacos and DELICIOUS sauces. We love the Pa Miguelito (pictured below). They also have some awesome Mezcal cocktails.
This little spot is on Av. Rafael Melgar, across from the harbor master's house. In other words, head towards the main fishing pier and turn left on Rafael Melgar (the last street before the ocean), Caribelos will be about 20 steps north on your left. This is where the fishermen eat, so you know it's good! Fresh, fast and delicious fish and shrimp tacos. Amazing salsas/sauces. They are open breakfast – dinner most days…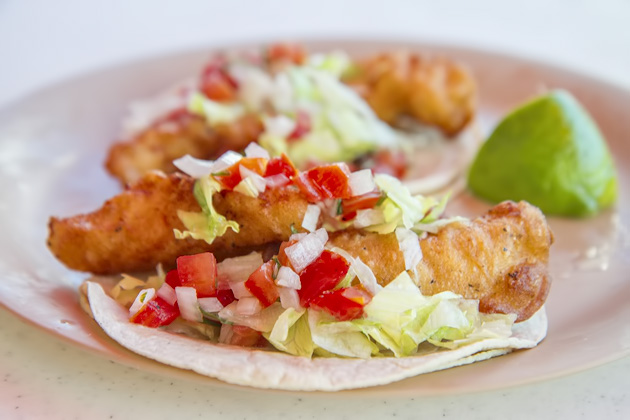 This place doesn't even really need a name…. for locals it's just the carnitas place up by Pemex on the highway. Carnitas = heaven and this place has great carnita tacos. They are open from 7-5, but local tip: GO EARLY, because sometimes they run out of carnitas!
If you're thinking that a Mediterranean cuisine restaurant is not a good place to find good tacos, think again! La Sirena's fish tacos are the stuff of dreams. Stuffed with battered grouper and topped with a crispy lime and chili slaw, you'll want more of these tacos. Trust us. Try them with a jalapeño cucumber margarita and thank us later! La Sirena is open every day breakfast – late night and is located in the town square above the shops on the northeast corner.
That's it folks!
That's our take on where to find some of the best tacos in Puerto Morelos! These are a few of our favorites, but there are certainly many other great options in town. Get out and explore and let us know your favorites.
Happy taco day!
Kim & Gabriel
Who are we?
Run Away Realty is a boutique-style brokerage located in the heart of Puerto Morelos, Mexico. We live and work in Puerto Morelos and are passionate about helping others discover how special our community is! We strive to provide a hassle free real estate experience and to take the mystery out of buying in Mexico.
If you're thinking of buying, we are ready to help you understand Puerto Morelos real estate! A great place to start is our FAQ page – or just give us a call or shoot us an email to find out more!
If you would like to know more about Run Away Realty, and see what our clients have to say about working with us, please click HERE!